Zimbabwe

Leader

Nyatsimba Mutota

Capital

Great Zimbabwe

Start Bias

Plains

Religion

Protestant

Amatongo (HR)

Culture

Bantu

Religious Intolerance

7

Traits

Protective, Industrious

Map Labels Language

African
Zimbabwe led by Nyatsimba Mutota [1] is a More Civilizations custom civilization by Sukritact [2], with contributions from Reedstilt and Pouakai.
This mod requires Brave New World.
Overview
Zimbabwe is a landlocked sovereign state located in southern Africa, between the Zambezi and Limpopo Rivers. Since the 11th century, present-day Zimbabwe has been the site of several organised states and kingdoms as well as a major route for migration and trade. Zimbabwe achieved majority rule and internationally recognized independence in April 1980 following a long period of colonial rule and a 15-year period of white-dominated minority rule, instituted after the minority regime's so-called Unilateral Declaration of Independence (UDI) in 1965.
Nyatsimba Mutota
The only information we have about Nyatsimba Mutota comes from oral tradition. It is recorded that the warrior prince named Nyatsimba Mutota from the Kingdom of Zimbabwe was sent to find new sources of salt in the north. Prince Mutota found his salt among the Tavara, a Shona subdivision, who were prominent elephant hunters. They were conquered and a capital was established 350 km north of Great Zimbabwe at Zvongombe by the Zambezi. With Mutota as ruler, the Kingdom outgrew its parent state and became the dominant force in the region, mainting nominal independence from the powerful Portugese colonialist in Mozambique. Mutota''s empire remained until, in the 17th century, rivalry between the Portugese and the Rozwi Empire (heralding from the Zimbabwe Plateau where Mutota was born) ripped it apart.
Dawn of Man
Greetings, mighty Nyatsimba Mutota - proud and noble leader of Zimbabwe! Your people bow before your presence! Your people have ruled over the African interior since time immemorial, when your kingdom was naught but a legend to the outside world. Zimbabwe grew rich off trading the bountiful resources of her lands with myriad foreign kingdoms, with which it became the sole power of the region. You built great cities which would astonish the world for centuries to come, and stood proudly to defend your lands from those who would attempt to take them until your last breath.
O' great king! Your kingdom has fallen, your lands plundered and divided by foreign powers. Yet your people retain hope, and call for a great leader to restore Zimbabwe to greatness. Can you don the mantle, and lead Zimbabwe once more? Can you make your kingdom the envy of the world? Can you build a civilisation that will stand the test of time?
Unique Attributes
Zimbabwe (Nyatsimba Mutota)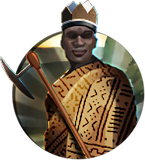 Totemic Lineage
Production spent on Buildings and Wonders contribute towards the establishment of a new Clan Lineage when the Building is completed. Each Clan Lineage provides a Trade Slot and a cumulative bonus.

Gano Axeman (Longswordsman)
Elite Longswordsman replacement. Only Zimbabwe may build it. The Gano Axeman is more expensive and gains experience whenever a City grows or claims a new Tile.

Dzimbabwe (Castle)

Totem
Effect

Mhara

Antelope

Double movement rate through Plains. Maintenance paid on Roads and Railroads reduced by 50%.
Nyati

Buffalo

+10% Production when constucting Buildings and Wonders.
Dziva

Pool

+2 Food per city.
Mbizi

Zebra

+3 Gold from all your land trade routes. A Caravan appears near the Capital.
Hove

Fish

+3 Gold from all your sea trade routes.
Nzou

Elephant

+1 Culture, +1 Production, +1 Gold, +1 Faith per Wonder.
Nhewa

Leopard

+10 Hit Points when healing in Enemy Territory. +20% Combat Bonus in Enemy Territory
Ngara

Porcupine

+10 Hit Points when healing in Friendly Territory. +20% Combat Bonus in Friendly Territory
Moyo

Heart

4 units are maintenance-free. Receive 4 Gano Axeman units immediately.

Requires the "Rise of the Rozwi" Event.
City List
Great Zimbabwe
Zvongombe
Khami
Danamombe
Mapungubwe
Harare
Bulawayo
Chitungwiza
Mutare
Epworth
Gweru
Kwekwe
Kadoma
Masvingo
Chinhoyi
Norton
Marondera
Ruwa
Chegutu
Zvishavane
Bindura
Beitbridge
Redcliff
Victoria Falls
Rusape
Chiredzi
Kariba
Karoi
Chipinge
Gokwe
Shurugwi
Spy List
Banga
Chamakomo
Duniisai
Farai
Gamba
Daya
Gamuchirai
Chipo
Vimbainashe
Chemwapuwa
Strategy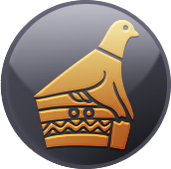 Music
Peace Theme
War Theme

04:21

Zimbabwe - Nyatsimba Mutota Peace




08:06

Zimbabwe - Nyatsimba Mutota War

Zimbabwe Peace Theme
Zimbabwe War Theme
Mod Support
Mod Support
Yes
Yes

Community Balance Patch

Unknown
Yes

Ethnic Units

Yes
Yes
Yes
Yes

Map Labels

Yes
Yes
Yes

Unique Cultural Influence

Yes

Wish for the World

No

YnAEMP

Yes
Events and Decisions
Finance an expedition for [Luxury]
There are rumors of a source of [Luxury] in nearby lands. We must seize this great opportunity and send for an expedition to settle there and gain us access to these valuable riches! It shall be the dawn of a new era for Zimbabwe!
Requirements/Restrictions:
Player must be Zimbabwe
May not be enacted after the end of the Medieval Era
May only be enacted once per game
Rewards:
Receive a free Settler
The empire becomes known as the Kingdom of Mutapa upon settling your next City
Receive sources of [Luxury] near the next City you settle
Embrace Mapungubwe Masonry
We owe much to the Kingdom of Mapungubwe. It is from them that we have inherited the style and technique we use to construct our stone houses and our fortified cities which has allowed us to control and expand our Kingdom so effectively. We should have our architects study, embrace and refine Mapungubwe masonry that our empire may continue to awe and impress.
Requirements/Restrictions:
Player must be Zimbabwe
Must have researched Masonry
May only be enacted once per game
Rise of the Rozwi

A powerful faction has begun to grow in our lands. Strong loyalty to their leader and dissatisfaction with their lot in life in the Zimbabwe plateau. The Rozwi, or 'destroyers', are disciplined fighters ready to unify the Shona peoples and create a new type of state. If we do not embrace them we may well find ourselves overrun against our will.
Option 1: Interesting...
The Moyo Totem is now unlocked
Foreigners Reject the Curva

Foreign merchants in our lands have always sought our approval and paid us the Curva tax in order to be granted free access to our nation's goods. Yet a number of upstart foreign traders are refusing to pay us their dues.
Option 2: Perhaps abolishing this tax will encourage more trade...
Unique Cultural Influence
"Our people are now building gigantic stone houses without using mortar. I worry the rest of the world will also succumb to the influence of your culture."
Full Credits List
Reedstilt: Research
Pouakai: DoM text
Sukritact: All else
Notes and References
Ad blocker interference detected!
Wikia is a free-to-use site that makes money from advertising. We have a modified experience for viewers using ad blockers

Wikia is not accessible if you've made further modifications. Remove the custom ad blocker rule(s) and the page will load as expected.