Federal Republic of Germany
Map by DarthStarkiller and Klisz

Leader

Konrad Adenauer

Capital

Bonn

Start Bias

none

Religion

Protestantism
(HR)

Culture

Central

Traits

Diplomatic, Industrious

Map Labels Language

Germanic
Alternate Leader of:
West Germany led by Adenauer
[1]
is a custom civilization by Klisz
[2]
, with contributions from DarthStarkiller and TPangolin.
This mod requires Brave New World.
Overview
Dawn of Man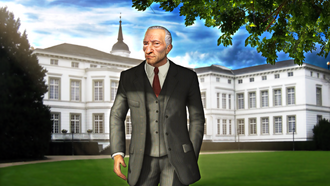 Welcome, Chancellor Adenauer. When you came to power as the first Federal Chancellor, Germany had been devastated by the bloodiest war in human history. But you presided over a period of unprecedented growth: an economic miracle in which the Federal Republic became the most prosperous country in all Europe. On top of this, you signed the Élysée Treaty of friendship with France, ending a long history of nationalistic strife between the French and German peoples.
Konrad Adenauer, the Federal Republic needs you once more! Will you again ensure freedom and prosperity in Germany? Can you build a civilization to stand the test of time?
Introduction: "Good day. I am Konrad Adenauer, Chancellor of the Federal Republic of Germany."
Defeat: "We will never forget. If it takes us five or ten or twenty years, we will never rest until we get our revenge.."
Strategy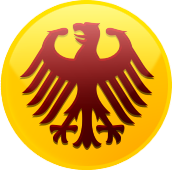 Unique Attributes
West Germany (Adenauer)
Wirtschaftswunder
Declarations of Friendship provide you with +5%
Production in all cities (max +25%), and both sides with +5%

Gold in all cities.

Bundesgrenzschutz (Infantry)

+5% Strength for every civilization with an opposing Ideology that borders the unit's owner

Autowerk (Factory)

+1 Gold from Engineer specialists in this city
City List
Bonn
West Berlin
Frankfurt
Hamburg
Munich
Cologne
Essen
Dortmund
Stuttgart
Düsseldorf
Bremen
Hannover
Duisburg
Bochum
Bielefeld
Karlsruhe
Gelsenkirchen
Wiesbaden
Münster
Braunschweig
Mönchengladbach
Kiel
Wuppertal
Freiburg
Hagen
Kaiserslautern
Kassel
Oberhausen
Hamm
Saarbrücken
Krefeld
Pirmasens
Solingen
Osnabrück
Ludwigshafen
Leverkusen
Oldenburg
Neuss
Mülheim
Darmstadt
Herne
Würzburg
Recklinghausen
Göttingen
Wolfsburg
Koblenz
Hildesheim
Erlangen
Spy List
Reinhard Gehlen
Gerhard Wessel
Klaus Kinkel
Eberhard Blum
Heribert Hellenbroich
Hans-Georg Wieck
Hans-Heinrich Worgitzky
Horst Wendland
Dieter Blötz
Norbert Klusak
Music
Mod Support
Mod Support
Unknown
Yes

Community Balance Patch

Unknown
Yes

Ethnic Units

Unknown
Yes
Yes

Map Labels

Yes
Unknown
Unknown

Unique Cultural Influence

Yes

Wish for the World

Yes

YnAEMP

Yes
Events and Decisions
Recruit Gastarbeiter
Our workforce is doing so well that not only is unemployment practically unheard of, but the labor pool is dry. We should invite workers from our allies.
Requirements/Restrictions:
Player must must be West Germany.
Must have an Ideology.
Must have at least one Declaration of Friendship or friendly/allied City-State.
May only be enacted once per era.
Rewards:
Receive a free Worker for every Declaration of Freindship or friendly/allied City-State.
Formulate the Hallstein Doctrine
States following other ideologies are not valid representatives of their people, and as such we should regard it as an unfriendly act for a third party to recognize them.
Requirements/Restrictions:
Player must be West Germany.
Must have an Ideology.
May only be enacted once per game.
Full Credits List
Klisz: Design, code, art, writing
DarthStarkiller: Art (map)
TPangolin: Art (leaderscene)
Notes and References
Ad blocker interference detected!
Wikia is a free-to-use site that makes money from advertising. We have a modified experience for viewers using ad blockers

Wikia is not accessible if you've made further modifications. Remove the custom ad blocker rule(s) and the page will load as expected.