The Niitsitapi

Leader

Running Eagle

Capital

Nínaiistáko

Start Bias

None

Religion

Catholicism

Culture

Tribal American
The Niitsitapi led by Running Eagle is a custom civilisation by LastSword[1].
This mod requires Gods and Kings & Brave New World.
Overview
-
-
Dawn of Man
Blessings be upon you, wise and fearsome Chief Running Eagle, revered leader of the Piegan people. You are said to be the only woman of tribe honored to join the society of warriors by being given a male name. You have forged yourself a position of most ferocious warrior of plains. Historically, the Niitsitapi were nomadic bison hunters and trout fishermen, who ranged across large areas of the northern Great Plains of Western North America. In the first half of the 18th century, they acquired horses and firearms from white traders and their Cree and Assiniboine go-betweens. The Blackfoot used these to expand their territory at the expense of neighboring tribes. Bison extinction began a period of great struggle and economic hardship; the Niitsitapi had to try to adapt to a completely new way of life.
Most fearless Pitamakan, your warrios once again look to you for leadership. Will you raid your enemies, driving them far from your lands? Or will you seek out peaceful way to achieve your unquestionable dominance? Will you build a civilization that stands the test of time?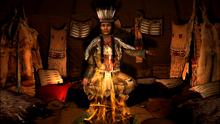 Introduction: "Every meeting is a beginning of new story. Shall this one end with your scalp in my collection? Running Eagle greets you and your ferocious warriors, if you have any."
Introduction: "I am sure that our nations can coexist in peace and wealth. Though it would be a terribly boring future, wouldn't it?"
Defeat: "That was quite a battle. Now, we can sit and share stories about the bravest warriors."
Defeat: "I think you finally earned the right to marry me. You can call yourself a warrior."
Strategy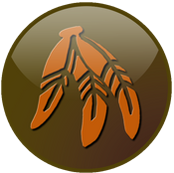 Unique Attributes
The Niitsitapi (Running Eagle)

Lord of the Plains
Gain permanent vision of land discovered first and before medieval era prevent rivals from settling there.
War Party (Horseman)

Sweat Lodge (Colosseum)
Music
| Peace Theme | War Theme |
| --- | --- |
| Unavailable. | Unavailable. |
| "?" from the soundtrack of ?. | "?" from the soundtrack of ?. |
Mod Support
Mod Support
No

Community Balance Patch

Unknown
Yes

Ethnic Units

No
No
No

Map Labels

No
No
No
No

Unique Cultural Influence

No

Wish for the World

No

YnAEMP

With Patch
Full Credits List
Patum33: War Party Model.[2]
LastSword: Author.
Notes and References
Ad blocker interference detected!
Wikia is a free-to-use site that makes money from advertising. We have a modified experience for viewers using ad blockers

Wikia is not accessible if you've made further modifications. Remove the custom ad blocker rule(s) and the page will load as expected.