Etruscan League
Map by TarcisioCM

Leader

Tyrrhenus

Capital

Velzna

Start Bias

Coast

Religion

Christianity

Culture

Classical
The Etruscans led by Tyrrhenus is a custom civilization by TarcisioCM.
This mod requires Brave New World.
Overview
The Etruscans
According to legend, there was a period between 600 BC and 500 BC, in which an Alliance was formed between twelve Etruscan settlements, known today as the Etruscan League, Etruscan Federation, or Dodecapoli. The Etruscan League of 12 cities was founded by two Lydian noblemen: Tarchon and his brother Tyrrhenus. Tarchon lent his name to the city of Tarchna, or Tarquinnii, as it was known by the Romans. Tyrrhenus gave his name to the Tyrrhenians - the alternative name for the Etruscans. The league was mostly an economic and religious league, or a loose confederation, similar to the Greek states. During the later imperial times when Etruria was just one of many regions controlled by Rome, the number of cities in the league increased by three. According to Livy, the twelve city states met once a year at the Fanum Voltumnae at Volsinii, where a leader was chosen to represent the league.
Tyrrhenus
Tyrrhenus was one of the founders of the Etruscan League of twelve cities, along with his brother Tarchon. Herodotus describes him as the saver of the Etruscans, because he led them from Lydia to Etruria. His name was given to the Etruscan people by the Greeks.
Dawn of Man
Blessings and salutations to you, revered Tyrrhenus, savior of the Etruscans. Your original homeland, Lydia, had been ravaged by floods when you led your people into the northern Italian Peninsula, where would become to be known as Etruria. There, together with your brother Tarchon, you founded the Etruscan League of Twelve Cities, uniting the twelve greatest Etruscan city states.
Oh great Tyrrhenus, for too long have your people been forgotten to the ages! Will you answer the divine call, and reunite your people once more? Can you build a civilization that will stand the test of time?
Introduction
: I've travelled many lands, but never seen anything quite like you! From where did you come? Here, let me show you my city.
Defeat: Did the gods have forsaken us? No... You will soon feel their wrath, I'm sure of it!
Strategy
Unique Attributes
The Etruscans (Tyrrhenus)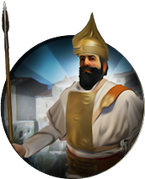 Loose League
-80%
Unhappiness from number of cities. -35% 

Gold in cities outside the Capital. All cities receive a weaker version of the Palace.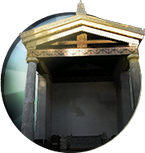 Hypogeum (Shrine)


Fanu
Music
Mod Support
Mod Support
No

Community Balance Patch

No
No

Ethnic Units

No
No
No

Map Labels

No
No
No
No

Unique Cultural Influence

No

Wish for the World

No

YnAEMP

No
List of Cities
City List
Velzna
Tarchuna
Curtun
Velathri
Aritim
Chaire
Velch
Fufluna
Veia
Vatluna
Perusna
Clevsin
Alalia
Capua
Felsna
Spina
Atria
Manthva
Achra
Irnthi
Ravena
Uscla
Cassina
Satria
Tarcste
Misa
Ficocle
Cainua
Amina
Ruma
Full Credits List
TarcisioCM: Author
Walter Maioli: Music
The Creative Assembly: Music
Ad blocker interference detected!
Wikia is a free-to-use site that makes money from advertising. We have a modified experience for viewers using ad blockers

Wikia is not accessible if you've made further modifications. Remove the custom ad blocker rule(s) and the page will load as expected.