The Alans
Map by TarcisioCM

Leader

Respendial

Capital

Maghas

Religion

Tengriism
The Alans led by Respendial is a custom civilization by TarcisioCM, with contributions from Danrell.
This mod requires Brave New World.
Overview
The Alans
-
Respendial
-
Dawn of Man
Hail Respendial, King of the Alans, may you guide your people into glory, conquest and wealth. As descendants of the Sarmatians, long have the Alans lived in the eurasian steppe until in 372 the Hunnic menace forced them out of home. Those who allied themselves with the Huns pushed westward, later leaving their conquerors and pressing further into the Roman Empire. Those who resisted migrated south, where they formed the Kingdom of Alania that endured until 1239, when the Mongols conquerors destroyed it.
Warlike King, your people is now dispersed and assimilated, their kingdoms long destroyed and their name forgotten to the pages of history! Will you lead them to victory once more, and form a new kingdom for your people? Can you build a civilization that will stand the test of time?
Introduction
: Greetings foreigner. I hope you are either a worthy ally for my people or a puny warlord for me to crush.
Introduction: A stranger approaches! Friend or foe?
Defeat: You are worthy of leading my people. May you guide them to glory in your campaigns.
Strategy
Unique Attributes
The Alans (Respendial)
Iron Migrations
May raze your own cities, giving you a Settler and one military unit for every 2 Citizens born after the city was founded. A city may become a Point of Sedentism; cities settled away from these receive
Production and
Happiness bonuses.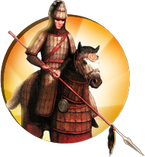 Nart (Great General)

Stacked units may pass through rival territory without open borders for 2 turns
Gain +2  Happiness empire-wide for every city founded after the newest Nart was born
Cities founded on the same tile as a Nart have a chance of settling with free ancient-era buildings, depending of how far they are from the Point of Sedentism

Horse Nomad (Settler)

Music
Mod Support
Mod Support
No

Community Balance Patch

No
No

Ethnic Units

No
No
No

Map Labels

No
No
No
No

Unique Cultural Influence

No

Wish for the World

No

YnAEMP

Outdated
List of Cities
City List
Maghas
Alhan-Kala
Verhniy Dzhulat
Rim Gora
Ilyichevskoe
Orleans
Valence
Toletum
Salmantica
Carthago Nova
Emerita
Conimbriga
Olisipo
Corduba
Hispalis
Gades
Caesarea
Hippo Regius
Tricameron
Carthage
Hadrumetum
Tripolis
Caralis
Alagir
Dzau
Digora
Tskhinval
Beslan
Kvaisa
ZnaurZnaur
Full Credits List
TarcisioCM: Author
Danrell: Unit models
The Creative Assembly: Music
Ad blocker interference detected!
Wikia is a free-to-use site that makes money from advertising. We have a modified experience for viewers using ad blockers

Wikia is not accessible if you've made further modifications. Remove the custom ad blocker rule(s) and the page will load as expected.