United Republic of Tanzania
Map by Kerfuffle

Leader

Ali Hassan Mwinyi

Capital

Dar es Salaam

Start Bias

Jungle

Religion

Islam

Culture

Bantu

Mercenaries

4

Religious Intolerance

1

Traits

Financial, Mercantile

Map Labels Language

African

Magical Girl

Anna Tibaijuka
Tanzania led by Ali Mwinyi is a custom civilization by Danmacsch.
This mod requires Brave New World. It replaces the City-State of Zanzibar with Diourbel.
Overview
Tanzania
The United Republic of Tanzania, is an East African nation founded in 1964 as union of the mainland Tanganyika og the island of Zanzibar. Tanzania is one of the world's poorest countries, but has in recent years experienced much economic progress.
Ali Mwinyi
Ali Hassan Mwinyi, who was born on May 8, 1925 in Kivure, Tanzania, was the Second President of the United Republic of Tanzania from 1985 - 1995. During Mwinyi's presidency Tanzania took the first steps to reverse the socialist policies of Julius Nyerere - the first president of Tanzania. He relaxed import restrictions and encouraged private enterprise. It was during his second term that multi-party politics were introduced under pressure from foreign donors. Often referred to as Mzee Rukhsa ("Everything goes"), he pushed for liberalization of morals, beliefs, values (without breaking the law) and the economy. He put these beliefs into practice by opposing religious fundamentalists who burned down pork butcheries; these were fanatics who claimed that eating pork contradicted their beliefs. He insisted that Tanzania was a free country and that individual freedom of beliefs was important. Many argue that during Mwinyi's tenure the country was in transition from the failed socialist orientation of Julius Nyerere that brought its economy to its knees. It was during Mwinyi's administration that Tanzania made some of the crucial decisions towards the liberalization of its economy that paved the way for short-term economic growth.
Dawn of Man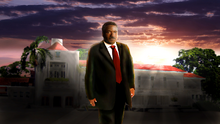 May God bless and keep you, President Ali Hassan Mwinyi, architect of the prosperity of the young, proud nation of Tanzania. Born on the Tanganyikan mainland, as it then was, you moved first to Zanzibar and then on to Britain, training as a teacher before working your way up the ranks of the newly elected government of Julius Nyerere. Though his policies were designed to help, famine ripped through the nation, and it required your skills, your belief to see the country to the prosperity it deserved. No more kowtowing to religious fundamentalists burning pork butchers' shops. No more lines waiting hours in the baking heat for the last loaf of bread on the shelf. Your dream was of a Tanzania in which every Tanzanian was truly free.
President Mwinyi, that dream must live again! Your nation must pick up the torch and guide others to joyous liberty! Will Tanzania arise again like a phoenix from the ashes of decolonisation? Can you build a Civilization that will stand the test of time?
Introduction: Welcome to Tanzania, traveller. Welcome to a land of riches and splendour... I wonder what riches you can bring to our Republic.
Introduction: Welcome to Tanzania, a land of riches and splendour like none you have ever known. Do you bring any riches on your own?
Defeat: Look to the west, mighty conqueror. Look to the west, and see the torch flame die atop the mountain.
Unique Attributes
Tanzania (Mwinyi)

Mzee Rukhsa
Extra

Gold in the Capital from Social Policies and in all Cities upon adopting an Ideology. Civilizations following your Ideology increase

Gold in your Capital.

Wajinga (Lancer)


Coffee Auctioneer (Stock Exchange)

City List
Dar es Salaam
Zanzibar
Dodoma
Mwanza
Arusha
Mbeya
Morogoro
Tanga
Kahama
Tabora
Kigoma
Sumbawanga
Kasulu
Songea
Moshi
Musoma
Shinyanga
Iringa
Singida
Njombe
Bukoba
Kibaha
Mtwara
Mpanda
Tunduma
Makambako
Babati
Handeni
Lindi
Korogwe
Mahinda
Spy List
Godfrey
Veronic
Othman
Jacky
Lina
Mugendi
Eto
Mtongori
Gati
Mugendi
Strategy
Music
Mod Support
Mod Support
Yes
Yes

Community Balance Patch

Unknown
Yes
Yes

Ethnic Units

Yes
Yes
Yes
Yes

Map Labels

Yes
Yes
Yes

True Alternative Leaders

Yes

Unique Cultural Influence

Yes

Wish for the World

Yes

YnAEMP

Yes
Events and Decisions
Enact the Tanganyika Wheat Scheme
After our wars, our allies from afar have been left badly hit. It is their wish that they grow wheat in our nation and use their technological abilities to improve our methods of farming. We will feed them, because the friends of Tanzania deserve to be fed.
Requirements/Restrictions:
Player must be Tanzania
Must have a Defensive Pact with another Major Civilization
May only be enacted in the Modern Era
May only be enacted once per game
Costs:
Rewards:
Farms and Plantations on Plain Tiles or Tiles adjacent to a Mountain yield +1 Food
International Trade Routes generate +5 Food in both Cities
Put an End to the Vibadi System
The Vibadi system is a process whereby only the most corrupt rise to the top, doing deals in an elaborate network of patronage, nepotism, and the worst excesses of cronyism. It has reached the point where people call them the Wabenzi, or people of the expensive foreign car. No more! We will put a stop to this corruption and make our civil service work for the people, not just those who bring them bribes!
Requirements/Restrictions:
Player must be Tanzania
Must have a Code of Laws
Must have at least 5 Specialist Slots in at least 4 Cities
Costs:
Rewards:
Sovereignty
Political Parties
Party of the Revolution (Revolutionary)
Tanzania Labour Party (Socialist)
United Democratic Party (Liberal)
Party for Democracy and Progress (Conservative)
National Assembly
Julius Nyerere
Benjamin Mkapa
Jakaya Kikwete
Rashidi Kawawa
Mizengo Pinda
Edward Lowassa
Frederick Sumaye
Cleopa Msuya
John Malecela
Joseph Warioba
Salim Ahmed Salim
Edward Sokoine
Ali Mohamed Shein
Amani Abeid Karume
Salmin Amour
Idris Abdul Wakil
Aboud Jumbe
Abeid Karume
Abdullah Kassim Hanga
Shamsi Vuai Nahodha
Mohamed Gharib Bilal
Omar Ali Juma
Seif Sharif Hamad
Ramadani Baki
Muhammad Shamte Hamadi
Unique Cultural Influence
"Our people are listening to bongo flava at THREE IN THE MORNING JULIUS IF YOU DON'T TURN THAT BLASTED STEREO OFF RIGHT NOW YOU'LL EAT IT"
Full Credits List
Danmacsch: Code, icons, leaderscene, re-texture of UU model
Scapegrace: Design, diplo text, pedias, DOM text
Kerfuffle: Map
JTitan: UU model
LeeS: Lua assistance
Sukritact: Lua assistance
Ad blocker interference detected!
Wikia is a free-to-use site that makes money from advertising. We have a modified experience for viewers using ad blockers

Wikia is not accessible if you've made further modifications. Remove the custom ad blocker rule(s) and the page will load as expected.