Spanish Empire

Leader

Isabella I

Capital

Madrid

Start Bias

Coast

Religion

Catholicism

Culture

Western

Traits

Expansive, Spiritual
Spain led by Isabella is a civilization available in vanilla Civilization 5. It requires the Double Civilization and Scenario Pack: Spain and Inca.
Overview
Spain
Spain's location on the Iberian Peninsula between North Africa and Europe has made it an important territory from prehistoric times to the present. At one time the first world Imperial power, Spain later had to survive devastating wars and centuries of political unrest. From its discovery and colonization of the New World to its involvement in countless wars of independence, Spain is one of the few countries which can claim such a lasting and encompassing global influence.
At its height, the Spanish Empire counted holdings across the entirety of the world-from large chunks of North and South America and small pieces of Europe, to various cities in North Africa and the Entirety of the East Indies. The Spanish led the world in this age of discovery, accumulating vast amounts of wealth and trade from their numerous colonies and principalities. It was said, and rightfully so, that the sun always shone somewhere in the Spanish Empire.
Isabella
Isabella I was Queen of Castile and León for 30 years, and with her husband Ferdinand, laid the groundwork for the consolidation of Spain. For her role in the Spanish unification, patronage of Columbus' voyage to America, and ending of the Reconquista (recapturing) of the Iberian Peninsula, Isabella is regarded as one of the most beloved and important monarchs in the Spanish crown.
Under Isabella, Spain was united, the Reconquista of the Iberian Peninsula concluded, and the power of the region centralized. She also laid the groundwork for the most dominant military machine in the next century (The Armada), reformed the Spanish church, and led the Spanish expansions into the new American colonies. Although many criticize her role in the Inquisition and in the persecution of Jews and Muslims, others are currently campaigning to have the late Queen canonized as a Saint in the Catholic Church. Regardless of her questionable acts persecuting others' religious beliefs, Isabella remains one of the most influential and significant monarchs of Spain.
Dawn of Man
Blessed Isabella, servant of God, holy queen of Castile and León! Your people greet and welcome you. You are the ruler of Spain, a beautiful and ancient country at the crossroads of the world between Europe and Africa, one shore on the Mediterranean and the other on the mighty Atlantic ocean. The Spanish are a multicultural people with roots in the Muslim and Christian worlds. A seafaring race, Spanish explorers found and conquered much of the New World, and, for many centuries, its gold and silver brought Spain unrivalled wealth and power, making the Spanish court the envy of the world.
O fair and virtuous Isabella! Will you rebuild the Spanish empire and show the world again the greatness of your people? Will you take up the mantle of the holy monarchy, and vanquish your foes under heaven's watchful eyes? Your adoring subjects await your command! Can you build a civilization that will stand the test of time?
Introduction: God blesses those who deserve it. I am Isabel of Spain. (Dios bendiga a aquellos que lo merezcan. Soy Isabel de España.)
Defeat: Very well. This is undoubtedly the will of God. And I must accept it. (Muy bien. Esta es sin duda la voluntad de Dios. Y debo aceptarla.)
Unique Attributes
Spain (Isabella)
Seven Cities of Gold
+100%

Culture,
Happiness, and tile yields from Natural Wonders. Receive a

Gold bonus upon discovering a Natural Wonder. This bonus is increased if you are the first to find it.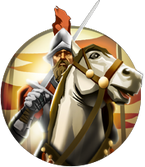 Conquistador (Knight)

No penalty vs Cities
+1 Sight
Can embark with defense
May found cities on other landmasses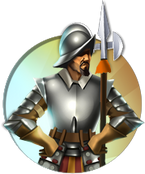 Tercio (Musketman)

Spain (Isabella)
Seven Cities of Gold
+100%

Culture,
Happiness, and tile yields from Natural Wonders. Receive a

Gold bonus upon discovering a Natural Wonder. This bonus is increased if you are the first to find it.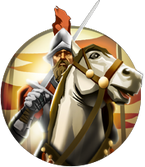 Conquistador (Explorer)

Unlocked at Chivalry
Starts with all Great Explorer bonuses
Immune to all Attrition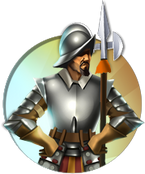 Tercio (Musketman)

City List
Madrid
Barcelona
Seville
Cordoba
Toledo
Santiago
Salamanca
Murcia
Valencia
Zaragoza
Pamplona
Vitoria
Santander
Oviedo
Jaen
Logroño
Guadarajara
Valladolid
Teruel
Almeria
Leon
Zamora
Mida
Lugo
Alicante
Cádiz
Elche
Alcorcon
Burgos
Vigo
Badajoz
La Coruña
Guadalquivir
Bilbao
San Sebastian
Granada
Mérida
Huelva
Palma de Mallorca
Santa Cruz de Tenerife
Asturias
Spy List
Rodrigo
Esmeralda
Leon
Mathilda
Ramona
Señor X
Topolino
Serpiente
Garcia
El Lobo
Strategy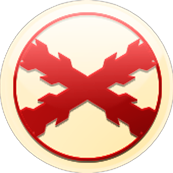 Music
Mod Support
Events and Decisions
Fund Columbus' Voyage
Explorer Christopher Columbus made two attempts in 1485 and 1488 to convince the King of Portugal, John III, to finance an expedition to try and find a western route to the Orient. After being rejected the second time, Columbus turned his efforts towards the Spanish Crown. Backed up by Italian investors, Columbus finally managed to convince King Ferdinand to agree to the expedition. In August 1492, after having been made 'Admiral of the Seas' and promised a share of the profits, Columbus finally set sail.
Requirements/Restrictions:
Player must be Spain
Must have researched Astronomy
May only be enacted once per game
Costs:
500  Gold
Rewards:
2 Caravels appear near the Capital
A Great Admiral appears near the Capital
Note: Your Capital must be within working range of an Ocean
Establish the Spanish Inquisition
In the early years of the 16th century, to combat the rising tide of religious unorthodoxy, the Pope gave Cardinal Ximénes of Spain leave to move without let or hindrance throughout the land, in a reign of violence, terror and torture that makes a smashing film. This was the Spanish Inquisition...
Requirements/Restrictions:
Player must be Spain
Player must have a majority religion
May only be enacted once per game
Costs:
Rewards:
Cities in Development
Colony List
Santo Domingo
Havana
Nombre de Dios
Panama
Veracruz
Apapulco
Cartagena
Bueno Aires
Callao
Asuncion
Valparaiso
Antigua
Cebu
Lloilo
Villa Cisneros
La Mamora
Quito
Mexico City
Villa Bens
Ambon
Jauja
Lima
Monterrey
Río de Oro
Unique Cultural Influence
"Our people are now dancing the flamenco and watching your bull fights. I worry the rest of the world will also succumb to the influence of your culture."
Ad blocker interference detected!
Wikia is a free-to-use site that makes money from advertising. We have a modified experience for viewers using ad blockers

Wikia is not accessible if you've made further modifications. Remove the custom ad blocker rule(s) and the page will load as expected.