Sikh Empire
Map by Wodhann

Leader

Ranjit Singh

Capital

Lahore

Religion

Sikhism

Culture

Bharata

Religious Intolerance

0

Traits

Aggressive, Spiritual

Map Labels Language

Indian
Punjab led by Ranjit Singh is a custom civilization by Gurra09, with contributions from LastSword, TPangolin, JFD, AgressiveWimp, Wodhann, RawSasquatch, and danrell. 
This mod requires Brave New World. 
Overview
Punjab
The Sikh Empire was a major power in the Indian subcontinent, that arose under the leadership of Maharaja Ranjit Singh who established the empire basing it around the Punjab. The empire existed from 1799, when Ranjit Singh captured Lahore, to 1849 and was forged on the foundations of the Khalsa from a collection of autonomous Sikh misls. At its peak in the 19th century, the Empire extended from the Khyber Pass in the west to western Tibet in the east, and from Mithankot in the south to Kashmir in the north. It was the last major region of the subcontinent to be conquered by the British.
Ranjit Singh
Maharaja Ranjit Singh was the founder of the Sikh Empire, which came to power in the Indian subcontinent in the early half of the 19th century. The empire, based in the Punjab region, existed from 1799 to 1849. It was forged, on the foundations of the Dal Khalsa, under the leadership of Ranjit Singh from a collection of autonomous Sikh Misls. 
Dawn of Man
Sat Sri Akaal, Ranjit Singh, Lion of the Punjab. Only 19 years old you, as the Commander of one of the 12 Sikh Misls, invaded the neighboring Bhangi Misl and captured the city of Lahore. This conquest began your quest to unite the misls and only two years later you were invested as the Maharaja of Punjab, ruling the newly formed Sikh Empire. You modernised the Sikh armies and won many battles, adding the territories of Peshawar, Jammu and Kashmir to your own. Although a great military leader, the world not only remember you for your military victories. By your order two of Sikhism's most sacred temples were constructed and Amritsar's Golden Temple, the Harmandir Sahib, was completely renovated during your reign. Your empire was an open and tolerant one, respecting people of all religions, allowing them to live side by side in peace. But after your death the empire was weakened by internal divisions and the British used this to launch a military campaign, dissolving the Sikh Empire only 10 years later.
Oh, great Maharaja, your people long for you to lead them forward once again. Will you help Punjab regain its former glory? Can you build a civilization that stands the test of time?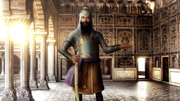 Introduction
: I bid you welcome to my palace, stranger. What brings you to Punjab?
Introduction: Greetings traveller! I am Ranjit Singh, Maharaja of Punjab. Will you join me for a meal?
Introduction: The Sikh Empire opens it doors for you, my friend. We respect all those who respect us.
Defeat: You have bested our armies and now Punjab is yours. I am disappointed to see that the Sikh Empire will die with me.
Strategy
Unique Attributes
Punjab (Ranjit Singh)

Sarkar-e-Khalsa
+10%

Combat Strength for units within 2 tiles of a Holy Site. +1

Faith from Farms. 

Guru (Great Prophet)

May create a Great Work of Writing

Gurdwara (Temple)

Music
Mod Support
Mod Support
Yes

Community Balance Patch

No
Yes

Ethnic Units

Yes
Yes
No

Map Labels

Yes
Yes
Yes
No

Unique Cultural Influence

Yes

Wish for the World

No

YnAEMP

Yes
List of Cities
City List
Lahore
Gujranwala
Amritsar
Multan
Rawalpindi
Faisalabad
Sialkot
Peshawar
Jammu
Gujrat
Haripur
Srinagar
Shujabad
Jhelum
Dera Ghazi Khan
Hoshiarpur
Kapurthala
Gurdaspur
Pakpattan
Poonch
Shahpur
Dera Ismail Khan
Kohat
Mithankot
Bannu
Nowshera
Wazirabad
Mianwali
Jamrud
Gilgit
Full Credits List
Gurra09: Author
LastSword: Guru Lua
TPangolin: Icons
JFD: Icons
AgressiveWimp: Icons
Wodhann: Map
RawSasquatch: DOM and leaderscene
danrell: Guru model
kirtanraag: Music
More Wonders: Harmandir Sahib wonder (splash screen and civilopedia)
Ad blocker interference detected!
Wikia is a free-to-use site that makes money from advertising. We have a modified experience for viewers using ad blockers

Wikia is not accessible if you've made further modifications. Remove the custom ad blocker rule(s) and the page will load as expected.