Polish Empire

Leader

Stephen Bathory

Capital

Kraków

Start Bias

None

Religion

Catholicism
Poland led by Stephen Bathory is a custom civilisation by LastSword[1].
This mod requires Gods and Kings & Brave New World. It does not replace Casimir III's Poland, but significantly changes it.
Overview
-
-
Dawn of Man
Noble Stephen Bathory, Prince of Transylvania and jure uxoris King of Poland. The Polish–Lithuanian Commonwealth was a dualistic state of Poland and Lithuania ruled by a common king of Poland. It was one of the largest and one of the most populous countries of 16th- and 17th-century Europe, established at the Union of Lublin in July 1569. The Union possessed features unique among contemporary states. Its political system was characterized by strict checks upon monarchical power. These checks were enacted by a legislature controlled by the nobility . This idiosyncratic system was a precursor to modern concepts of democracy, constitutional monarchy, and federation. After several centuries of prosperity, it entered a period of protracted political, military and economic decline. Its growing weakness led to its partitioning among its neighbors, Austria, Prussia and the Russian Empire, during the late 18th century. Shortly before its demise, the Commonwealth adopted a massive reform effort and enacted the Constitution, the first codified constitution in modern European history.
Your mayesty! Weak neighbours tremble in fear before the power of your army. Will you rule them with an iron hand or bring liberty and equality to oppressed nations? Can you build a civilization that will stand test of time?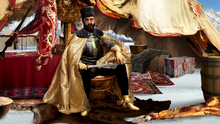 Introduction: "Welcome to Poland, my friend. I am Stephen Bathory, the third elected king of Poland and vassal states. I am looking forward to see how this relationship ends."
Introduction: "Will I listen to next begging for peace or you have something more interesting to offer?"
Defeat: "The world will hear about this treason and see Poland uprising against the tyranny."
Defeat: "This is how the liberty dies... Unthinkable."
Strategy
Unique Attributes
Poland (Stephen Bathory)
Royal Elections
Receive a free Social Policy when you advance to the next era.

Chosen Infantry (Musketman)

Sejmik (Zoo)
+2 Culture
+ +1
Happiness for every three Policies adopted after its construction
Music
Peace Theme
War Theme

03:28

Civilization V OST - Casimir Peace Theme - Bóg się rodzi

05:13

Krzesimir Dębski- Polonez Husarii

"Casimir Peace Theme" from the soundtrack of Civilization V.
"Polonez Husarii" by Krzesimir Dębski
Mod Support
Mod Support
No

Community Balance Patch

Unknown
No

Ethnic Units

No
No
No

Map Labels

No
No
No
No

Unique Cultural Influence

No

Wish for the World

No

YnAEMP

With Patch
Full Credits List
Notes and References
Ad blocker interference detected!
Wikia is a free-to-use site that makes money from advertising. We have a modified experience for viewers using ad blockers

Wikia is not accessible if you've made further modifications. Remove the custom ad blocker rule(s) and the page will load as expected.