Malaysia
Map by TPangolin

Leader

Parameswara

Capital

Kuala Lumpur

Start Bias

Coastal

Religion

Islam

Culture

East Indies

Mercenaries

6

Religious Intolerance

7

Traits

Protective, Spiritual

Magical Girl

Malik ul Salih
Malaysia led by Parameswara is a custom civilization by Colonialist Legacies.
This mod requires Brave New World.
Overview
Malaysia
Hinduism and Buddhism from India dominated early regional history, reaching their peak during the reign of the Sumatra-based Srivijaya civilisation, whose influence extended through Sumatra, Java, the Malay Peninsula and much of Borneo from the 7th to the 14th centuries. Although Muslims had passed through the Malay Peninsula as early as the 10th century, it was not until the 14th and 15th centuries that Islam first firmly established itself. The adoption of Islam by the 15th century saw the rise of a number of sultanates, the most prominent of which was the Malacca. Islam has had a profound influence on the Malay people, but has also been influenced by them. The Portuguese were the first European colonial powers to establish themselves on the Malay Peninsula and Southeast Asia, capturing Malacca in 1511, followed by the Dutch in 1641. However, it was the British who, after initially establishing bases at Jesselton, Kuching, Penang and Singapore, ultimately secured their hegemony across the territory that is now Malaysia.
The Anglo-Dutch Treaty of 1824 defined the boundaries between British Malaya and the Netherlands East Indies (which became Indonesia). A fourth phase of foreign influence was immigration of Chinese and Indian workers to meet the needs of the colonial economy created by the British in the Malay Peninsula and Borneo. Japanese invasion during World War II ended British domination in Malaysia. The subsequent occupation of Malaya, North Borneo and Sarawak from 1942 to 1945 unleashed nationalism. In the Peninsula, the Malayan Communist Party took up arms against the British. A tough military response was needed to end the insurgency and bring about the establishment of an independent, multi-racial Federation of Malaya on 31 August 1957. On 31 August 1963, the British territories in North Borneo and Singapore were granted independence and formed Malaysia with the Peninsular states on 16 September 1963. Approximately two years later, the Malaysian parliament passed a bill to separate Singapore from the Federation.
Parameswara
The name Parameswara is derived from the Sanskrit word, a Hindu concept literally meaning the "mighty Lord". The word "parama" meaning "the supreme" is added to Ishvara to intensify the title of God. In 1389, Sri Maharaja of Singapura was succeeded by his son, Iskandar Shah - the birth name of Parameswara. Despite the use of the peculiar Persian name and title, there is no evidence of his conversion to Islam. However, accounts in the Malay Annals trace back the Islamic influence in Singapura to the reign of Sri Rana Wikrama, when he first established relationships with a Sumatran Muslim Kingdom, Peureulak. One source claims that Parameswara had a Muslim woman as his wife and converted to her religion.
Dawn of Man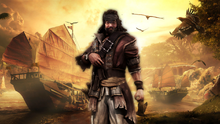 All hail Parameswara, usurped Shah of Singapura and Sultan of mighty Malacca! For nine years, you ruled in splendour in the Lion City before a treacherous advisor stole it from you with the ships of the hated Majapahit. Forced to flee, you discovered a land over the seas where even the mouse-deers were formidable, and this place you named Malacca. Through your leadership, this new kingdom grew powerful, rivalling stolen Singapura in beauty, helped by your recruitment of the loyal Orang Laut to protect your traders from pirates, and though the Europeans stole your city from your descendants, one day they would take back what was theirs and live free once more.
O Supreme Lord, whose magnificence awed even the Celestial Emperors, Malacca is Malaysia and Malaysia is in direst peril. Will you fend off the pirates as you did in ages past? Will your kingdom rise once more to rule with trade and fire? Can you build a Civilization that will stand the test of time?
Introduction:
Introduction:
Introduction:
Defeat:
Defeat:
Defeat:
Unique Attributes
Malaysia (Parameswara)

Alam Melayu
Naval units stationed on worked Sea Resources or Atolls provide +1

Food. Excess Food in Cities generates additional

Culture.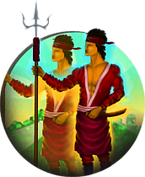 Pesilat (Landsknecht)

Does not require the Mercenary Army social policy
May be upgraded from Workers that are within two tiles of an enemy unit
May move immediately after purchase in a city

Kampung
City List
Kuala Lumpur
Malacca
Johor Bahru
Penang
Ipoh
Putrajaya
Subang Jaya
Kota Bharu
Kuantan
Alor Setar
Seremban
Kangar
Sham Alam
Kuala Terengganu
Singapore
Kuching
Klang
Ampang
Petaling Jaya
Pekan
Pulau Langkwai
Seri Mentanti
Muar
Tangkak
Temerloh
Kuala Lipis
Tanah Rata
Brinchang
Genting
Spy List
Adnan
Iskandar
Paduka
Mansur
Abdul
Hang Tuah
Zainah
Siti
Hidayah
Yunalis
Strategy
Music
Peace Theme
War Theme

04:16

Mark Mancina - Return To Paradise ( "Return To Paradise" OST )

"Return to Paradise" by Mark Mancina.
Mod Support
Mod Support
Yes
Yes

Community Balance Patch

Unknown
Yes
Yes

Ethnic Units

Yes
Yes
Yes
Yes

Map Labels

Yes
Yes
Yes

Unique Cultural Influence

Yes

Wish for the World

Yes

YnAEMP

Yes
Events and Decisions
Call upon the Services of the Laksamana
Our trade routes are the lifeline of our empire, and require protection. Promoting a Laksamana should assist in the security of our trade routes and territory.
Requirements/Restrictions:
Player must be Malaysia
Player must have a naval unit in the capital
Player must have at least two international Trade Routes
May only be enacted once per game
Costs:
Rewards:
The naval unit in the capital becomes a Great Admiral
+15 Experience for all newly constructed naval units
Celebrate the Kongsi Raya
Our people cry out for a grand celebration of our glorious culture! Celebrating the Kongsi Raya should satisfy our needs!
Requirements/Restrictions:
Player must be Malaysia
Player must have completed at least two Social Policy trees
Can be enacted once per era
Costs:
Half the Culture of the next Social Policy
Rewards:
Starts a Golden Age
Starts a We Love the King Day in the capital
Length of Kongsi Raya is equal to five times the number of completed Social Policy trees
Sovereignty
Political Parties
United Malays National Organisation (Conservative)
Parti Gerakan Rakyat Malaysia (Liberal)
Parti Pesaka Bumiputera Bersatu (Reactionary)
Democratic Action Party (Socialist)
Bendaharas
Tun Perpatih Muka Berjajar
Tun Perpatih Tulus
Raden Bagus
Raden Anum
Tun Perpatih Sedang
Tun Perpatih Putih
Tun Perak
Tun Mutahir
Tun Tepok
Tun Khoja
Tun Biajid
Tun Mahmud
Tun Isap Misai
Tun Sri Lanang
Tun Anum
Tun Mat Ali
Tun Rantau
Tun Habib Abdul Majid
Tun Abdul Jalil
Tun Abbas
Tun Abdul Majid
Tun Muhammad
Tun Koris
Tun Ali
Tun Mutahir
Titles
Grand Bendahara
Sultan
Yang di-Pertuan Agong
Unique Cultural Influence
"Our people are creating floral arts and embracing your culture of disapproval. I fear the rest of the world will succumb to this madness."
Full Credits List
TPangolin: Concept, map, icons
Neirai: Lua, decisions
JFD: Lua, mod support
Senshidenshi: Compilation
Knightmare: Icons
Civitar: Unit graphics
Lady Duckington: City List
Ad blocker interference detected!
Wikia is a free-to-use site that makes money from advertising. We have a modified experience for viewers using ad blockers

Wikia is not accessible if you've made further modifications. Remove the custom ad blocker rule(s) and the page will load as expected.