Republic of Azerbaijan

Leader

Rasulzade

Capital

Baku

Start Bias

Hills

Religion

Islam

Culture

Eastern

Religious Intolerance

2

Traits

Philosophical, Creative

Map Labels Language

East Asian
Azerbaijan led by Rasulzade is a custom civilization by DJSHenninger
[1]
.
This mod requires Brave New World.
Overview
The location of human and pre-human habitation that dates back two million years, remnants of Azerbaijan's history include Bronze Age petroglyphs and medieval structures. In modern times, it was the first Muslim-majority country to have operas, theater, and plays. The Azerbaijan Democratic Republic (ADR) also established on May 28, 1918, was the first secular Muslim-majority country built on the principles of a western style democracy with a constitution that granted equal rights to all citizens, including voting right for women. That entity, however, existed only for 23 months as it was invaded and incorporated into the Soviet Union by the Red Army under the name Azerbaijan SSR. At the verge of the Soviet Union's collapse, ethnic strife in Nagorno-Karabakh and Moscow's indifference to the conflict resulted in calls for independence and secession, which culminated in Black January. Subsequently, the ADR's flag was restored as the state flag and, following that, the modern Republic of Azerbaijan emerged as a successor to Azerbaijan SSR on October 18, 1991.
Mammad Amin Rasulzade was an Azerbaijani statesman, scholar, public figure and the first and only president of Democratic Republic of Azerbaijan (1918–1920). His expression "The flag once raised will never fall!" has become the motto of the independence movement in Azerbaijan in the 20th century.
Dawn of Man
"Your people welcome you to their nation, Rasulzade! You are practically the father of the nation, the one who longed for independence and eventually succeeded in granting the Azerbaijanis their own country. The Azerbaijan Democratic Republic did not last long, as it collapsed within two years. But you did not give up so easily. Your struggle for independence after 1920 was remarkable. Your expression, "The flag, once raised, will never fall!", became the motto of the 20th century independence movement in Azerbaijan. You hoped for Azerbaijan to become independent once more. Unfortunately, you did not see this happen in your lifetime, but Azerbaijan did gain independence and the people expressed their thanks to you by building many memorials.
The people of Azerbaijan call for you help once more! They need a leader like you: one who does not give up so easily and fights till the bitter end. Will you build up a magnificent empire, take your rightful place in this world and bring wealth and prosperity? Can you build a civilization that will stand the test of time?"
Introduction: "I welcome you to my nation, Azerbaijan. I am Mammad Rasulzade, the leader."
Introduction: "You stand in Baku, the grand capital of Azerbaijan. I welcome you as a friend.. or should I challenge you as your foe?"
Defeat: "The flag, once raised, will never fall! And the flag has been raised.. Remember that!"
Defeat: "You cannot stop us. No one can stop us."
Strategy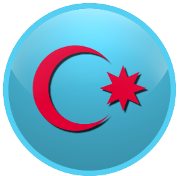 Unique Attributes
Azerbaijan (Rasulzade)

The Land of Fire
Start with a free Artist's Guild in the

Capital. Food Luxuries provide +1

Culture. The Musician's Guild is available after researching Guilds.
Does not yet include Cocoa, but does include More Luxuries.

Ashik (Great Musician)

Carpet-Weaving School (Workshop)
Music
Peace Theme
War Theme

02:13

Azerbaijan National Anthem - Azərbaycan Marşı (Instrumental)

03:35

Europa Universalis IV OST Ride Forth Victoriously

"Azerbaijan National Anthem - Azərbaycan Marşı (Instrumental)"
"Ride Forth Victoriously" by Andreas Waldetoft for the soundtrack of Europa Universalis IV.
Mod Support
Mod Support
Yes

Community Balance Patch

Yes
Yes

Ethnic Units

Yes
No
No

Map Labels

Yes
Yes
Yes
No

Unique Cultural Influence

Yes

Wish for the World

No

YnAEMP

Yes
Unique Cultural Influence
"Our people are now walking on your carpets and eating your desserts. I worry the rest of the world will also succumb to the influence of your culture."
List of Cities
City List
Baku
Ganja
Sumqayit
Mingachevir
Xirdalan
Shirvan
Shaki
Yevlakh
Lankaran
Jalilabad
Masally
Shamkir
Agdam
Khachmaz
Tovuz
Quba
Sabirabad
Barda
Aghjabadi
Salyan
Zaqatala
Yevlakh
Fizuli
Imishli
Goychay
Kurdamir
Agdash
Astara
Tartar
Goranboy
Gadabay
Balakan
Shamakhi
Qazakh
Full Credits List
Andreas Waldetoft: War Theme.
DonStamos: Music Suggestions.
DJSHenninger: Author.
Notes and References
Ad blocker interference detected!
Wikia is a free-to-use site that makes money from advertising. We have a modified experience for viewers using ad blockers

Wikia is not accessible if you've made further modifications. Remove the custom ad blocker rule(s) and the page will load as expected.