Empire of Afghanistan
Map by Sukritact

Leader

Ahmad Shah Durrani

Capital

Kandahar

Start Bias

Hills

Religion

Islam

Government

Monarchy

Culture

Islamic

Traits

Creative, Defensive

Map Labels Language

Indian

Magical Girl

Hazrat Begum
Alternate Leader of:
Afghanistan led by Ahmad Shah Durrani is a custom civilization by JFD and Janboruta[1], with contributions from Sukritact, Civitar, and SuperWaffle.
This mod requires Brave New World and works best with Gazebo's Community Patch.
Overview
The Central Asian region now known as Afghanistan has served as a focal point of trans-Eurasian trade for millennia Unfortunately, it has also been the site of conflict for as long of a time. Known as "The Graveyard of Empires," Afghanistan's critical location has made it a sought-after territory, but one that has been successfully resistant to some imperial ventures. Ethnically and linguistically diverse. Afghanistan is a melting pot of cultures, resulting in a strong national literary tradition.
Ahmad Shāh Durrani, also known as Ahmad Khan Abdali, was the founder of the Durrani Empire and is regarded as the founder of the modern state of Afghanistan. He began his career by enlisting as a young soldier in the military of the Afsharid kingdom and quickly rose to become a commander of the Abdali Regiment, a cavalry of four thousand Abdali Pashtun soldiers.
After the death of Nader Shah Afshar in 1747, Ahmad Shah Durrani was chosen as King of Afghanistan. Rallying his Afghan tribes and allies, he pushed east towards the Mughal and the Maratha empires of India, west towards the disintegrating Afsharid Empire of Persia, and north toward the Khanate of Bukhara. Within a few years, he extended his control from Khorasan in the west to Kashmir and North India in the east, and from the Amu Darya in the north to the Arabian Sea in the south.
Durrani's mausoleum is located at Kandahar, Afghanistan, adjacent to the Shrine of the Cloak in the center of the city. Afghans often refer to him as Ahmad Shāh Bābā ("Ahmad Shah the Father").
Dawn of Man
""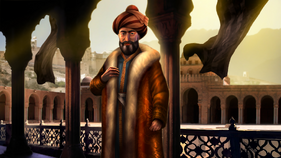 Introduction: "I welcome you to Afghanistan. Enter my kingdom softly."
Introduction: "I am Ahmad Shah Durrani, chosen father of Afghanistan. You would be foolish not to bow to me."
Defeat: "I would be buried in gaze of my Lord, and Afghanistan with me."
Defeat: "Afghanistan shall not submit willfully. Her resolve, now, lies before you."
Unique Attributes
Afghanistan (Ahmad Shah Durrani)
Graveyard of Empires
Enemy Units in your borders take damage when in Hills or next to Mountains. This, and kills in Friendly Territory, produces

Great Writer Points.

Jezailchi (Cavalry)

Divan (Constabulary)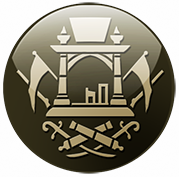 Strategy
Music
Peace Theme
War Theme

02:45

Rise of Nations soundtrack - Morocco

02:24

Rise of Nations soundtrack - DesertWind

"Morocco" from the soundtrack of Rise of Nations.
"Desert Wind" from the soundtrack of Rise of Nations.
Mod Support
Mod Support
Yes
Yes

Community Balance Patch

Yes
Yes
Yes

Ethnic Units

Yes
Yes
Yes
Yes

Map Labels

Yes
Yes
Yes

True Alternative Leaders

Yes

Unique Cultural Influence

Yes

Wish for the World

Yes

YnAEMP

Yes
Events and Decisions
Adopt the Pashtunwali
The Pashtunwali is the ethical code of our people, dictating the behaviours and customs of our society. To foster greater solidarity between us and them, we should adopt the Pashtunwali ourselves.
Requirements/Restrictions:
Player must be Afghanistan.
May only be enacted from the beginning of the Renaissance Era.
May only be enacted once per game.
Organize a Loya Jirga
In times of war, we look upon the tribes of Afghanistan to debate and discuss the path to resolution. Today, we call together a Loya Jirga and plan for victory.
Requirements/Restrictions:
Player must be Afghanistan.
Must have at least four cities.
Must be at war.
May only be enacted once per era.
Unique Cultural Influence
"Our people are now reciting your poems and indulging in your Manti dumplings. I worry the rest of the world will also succumb to the influence of your culture."
Full Credits List
JFD: Author.
Janboruta: Artwork.
Regalman: Artwork.
Sukritact: Artwork.
Civitar and embryodead: Graphics.[2]
References
Ad blocker interference detected!
Wikia is a free-to-use site that makes money from advertising. We have a modified experience for viewers using ad blockers

Wikia is not accessible if you've made further modifications. Remove the custom ad blocker rule(s) and the page will load as expected.